Global Care International, by way of its strategic partners, have the solutions – and the solutions are mobile and customizable providing Western healthcare delivery "equivalency of care" standards for patients around the world.
Global Care International and its strategic partners have developed the world's first vertically integrated comprehensive Telemedicine/EHR System Solution of its kind. The system is the first to incorporate such advanced technology as "biometrics" for use in patient registration and care provider log in. Basically, the "system" involves one major hardware/software solution, one Client Server Software Solution and two Web-Based Solutions. (See Typical Client Server Deployment Scenario PDF)
eDoc® Telemedicine/EHR System
eDoc® Telemedicine/EHR Client Server Software 
ICMyDoctor Web Portal   www.icmydoctor.com
My Records Now Personal health Records System  www.myrecordsnow.com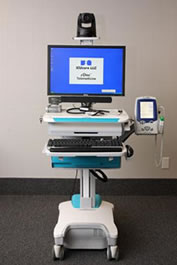 Telemedicine: From Anywhere in the World
Telemedicine technology and its mobility are already impacting the future of healthcare. Telemedicine in our mobile environment may be the very best application of the technology because the "facility" was designed around the technology and not as an afterthought or an appendage to an existing concept.
Our units are capable of providing telemedicine support for consultations, radiology and pathology through the use of satellite, cellular or regular telephone service (POTS) connected to one communications system.
Workstations can employ high resolution monitors and are fiber-optic/copper-cable wired for a full local area network (LAN) connecting to a wide area network (WAN) that is neither vendor nor protocol specific or limited to system drivers. The telemedicine and communications capabilities are also adaptable to future systems alleviating issues of component incompatibility and obsolescence, and allowing for video teleconferencing or other input/output device plug-ins for those desiring to install their own electronic devices.
A Single Source for all Related Data
Physicians operating in our mobile facilities can document every patient experience from the first EKG, BP, and O2 during the pre-op experience to anesthesia, environmental, and postoperative notes collection — storing all information in the patient's electronic single-source permanent record. This combined data will track patient activity and allow for better outcome studies, utilization reviews, and cost/benefit evaluations.
Global Care International has developed a sophisticated world-wide communications system that is unique for a fixed site…let alone for a mobile environment!
Global Care International can provide a fixed location clinic or mobile vehicle with a minimum of one Customized eDoc® Telemedicine/EHR System to include and assortment of medical diagnostic equipment. It is important to note that this unit can be provided either in a mobile or a fixed (wall mountable) configuration, application or user dependant. In a mobile configuration, the unit can be moved from patient, examination or surgery room as required. The mobile version is battery powered, providing up to 6 hours of operation. All power is 120/240 rated for universal deployment through the world.
Mobile Clinic RV Vehicles
Our mobile clinic vehicles are exclusively designed to our client's specifications, with sizes ranging from 25 ft up to 45 ft. Based on application and dimensions we offer the following chassis: Ford or GMC cutaways, cab and chassis frame, RV style frame or trailer configuration.
Standard options includes: privacy exam rooms, reception area, restroom, lab area, slide-out wall sections, self sustained power, emergency backup power, leveling jack system, ADA compliance wheelchair system, electronic awning, lab sample area, under carriage storage, communications system including internet access.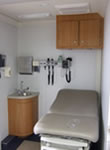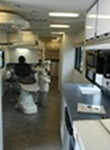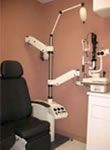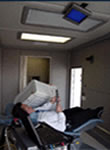 Global Care Commercial Mobile Vehicles Are:
Set-up and fully functioning in 15 minutes or less by 1 person
Diesel Powered with Solar Powered Backup for all Emergency and Communications
Tested at factory and Commissioned on location to user specification
Manufactured to be self-contained units with fully integrated power, lighting, heating, ventilating, and air conditioning (HVAC)/HEPA filtration, communications, plumbing, fire suppression, intrusion alarm systems and storage areas
Furnished with a two part floor and ceiling system for weather and thermal protection.
Transportable by tractor, train, ship or air depending on method desired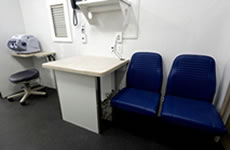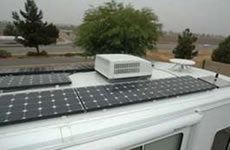 Vacuum bonded fiberglass walls
Sound and heating insulation package
Steel framing body structure
Air ride computerized suspension
Seamless interior walls
On-site training and support
Body is specifically designed and constructed to contain advanced medical equipment
Optional slide-out sections for greater space usage
Complete sound and temperature barrier
Customer lead insulation where required
Exterior seamless vacuum bonded panels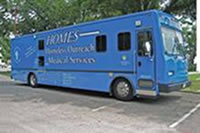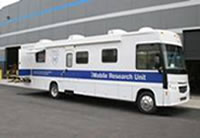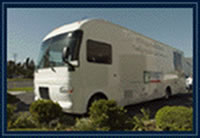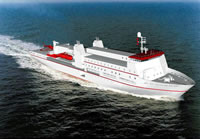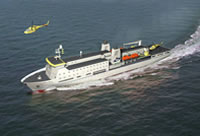 Other Features: (where applicable)
Redundant systems for power, communications, vacuum and water
Advanced telecommunications systems [please refer to telemedicine]
Integrated nurse call and patient monitoring systems
Plumbing system complete with fixtures, distribution, water heater, water pumps and a waste water collection system
Holding tanks for storage of fresh, gray, and black water
Hospital grade diesel generator [operational 24/7]
7 kVA UPS system
Separate pre-/post-operative areas
Separate "clean" and "soiled" utility rooms, lavatory/changing rooms
Spacious entrance and transition areas; wheel chair lift/stretcher accessible
Re-configurable [portable] cabinetry
"The only people more important than our customers are the patients whose very well being may rest in our hands."