ICMyDoctor Telehealth Encounter Consult cloud-based EMR
(See https://icmydoctor.com)
This physician facing solution was developed in support of Telemedicine and Telehealth. It supports both Store & forward and Interactive Video Consultation Medical Encounters between a physician and a patient. Much like an EHR provides a rich medical data collection and aggregation system to include robust decision support, this cloud-based system was designed to capable of being used as a stand-alone system with the ability to export data back into every Certified EHR in North America. The system includes the following features: (Abbreviated Listing)
My Encounter Consults – Manages both Telehealth, Chronic Care Management and Remote Patient Monitoring from both In-Network and out-of-Network Physician Offices as well as on demand from Patient/Consumer initiated request for a Remote Consultation. Once any Consultation request has been received or created due to an adverse event associated with a physiological Alert which has triggered, the physician is afforded a complete Medical Encounter Page for use in their response. The system is subscription and cloud-based and includes a native DICOM Viewer for use by provider in connection with patient or referring provider imaging. The system also provides for continuum of care. At the closure of each medical encounter, the system will produce and transmit an Encounter Clinical Summary in C-CDFA format to every member of the patient healthcare team.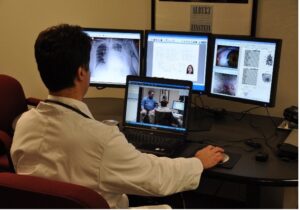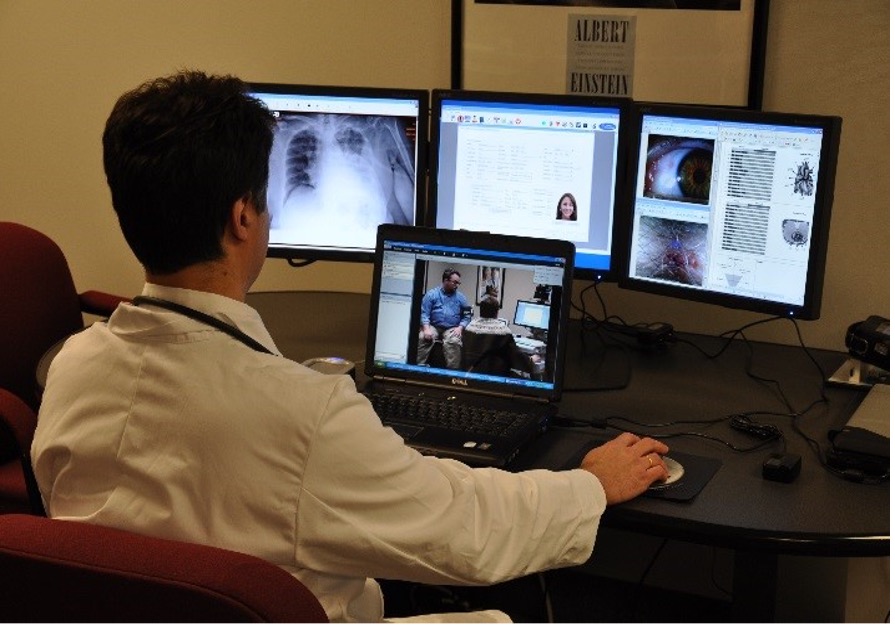 Patient Administration – This sub-system is used to manage a physician's patient population in regards to the assignment of Medical Devices, and a patient's usage of said devices to include; Frequency of Use, Low alerts, High Alerts, Notifications of Alerts to what members of the care team and Action Notifications to the patient in response to any abnormal event. Additionally, this is where the physician or care team can assign Disease Management Protocols in the form of Assessments Questionnaires and Patient Education information for transmittal via text and email to the patient. Lastly, from this page view window, the physician can view and graphically trend all of the patient's physiological data.
Billing Administration – The ICMyDoctor Encounter Management System provide and embedded Billing Administration program using the medical codes that are automatically generated by the physician during their completion of the Medical Consult Encounter for a given patient. Reports are capable of being generated in either Single or Batch form in both PDF or Excel format suitable for ingestion into the physicians EHR or Accounting Software for final submission for payment.
Physician's Profile Management – This section of the navigation pane provides for the ability setup or change; physicians Password, Update Personal Information, Change Notification Methods and Add or Edit Other Care Team Members and Assign Responsibilities.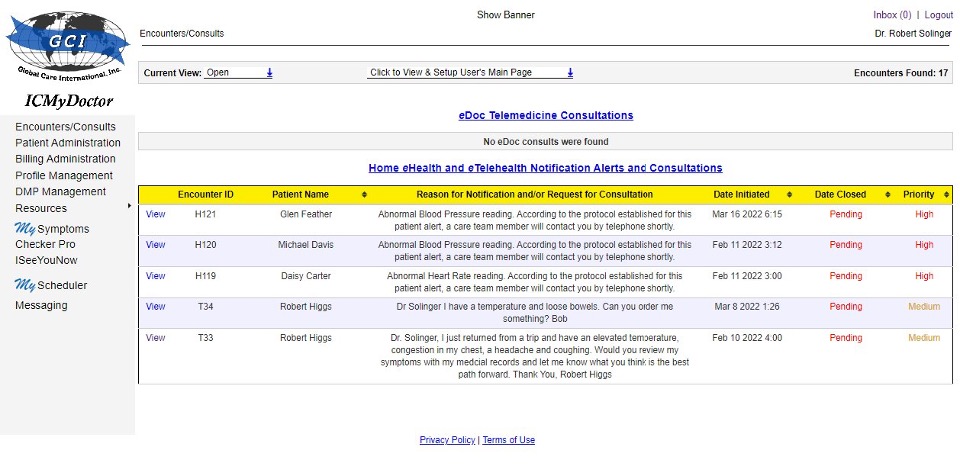 DMP Management Resources – This sub-system module within the ICMyDoctor is quite unique in that it provides for the ability to Create Custom New Assessment Questionnaires, Clinical Protocols, Patient Education Information Materials specific to a given medical situation. This is accomplished in such a way as to be capable of creating a given DMP in a matter of minutes by way of pre-formatted and automated "clickable" forms design. Once created, they can then be assigned to a particular field of medical and saved for later recall and utilized as explained above. The ICMyDoctor DMP Management comes pre-loaded with a rich set of DMP's for most every field of medicine. These DMP's represent the licensed work of some of the most recognized health Institutions in North America.
My Symptoms Checker – This solution represents a Differential Diagnosis and Care Treatment system which is FDA Approved and certified as 95.1% accurate. When being used in conjunction with a given medical encounter, the patients demographics are preloaded, their symptoms if provided by the patient and with one click will return the top ten diagnosis for that medical situation using AI and other like sophisticated algorithms. The system even has the ability to run causative Drugs Analysis and identity possible Bioterrorist Agents and more. Once a given diagnosis is clicked, the system will navigate to various recognized medical resources which provide recommended care treatment or actions for consideration by the physician.
ISeeYouNow – This High Definition Video/Audio Conferencing system uses Web RTC technology and is thus P2P based. This system can be used with PC, IOS or Android Mobile devices on demand and includes encrypted protocols for all video and audio from end to end. The solution includes file sharing, text-based chat and the ability to be used with the physicians Scheduler as well as all other commonly used Email Platforms. (Outlook, Google, etc.)
My Scheduler – This is an all comprehensive and integrated scheduling system calendar for use by the physician and their care team as well as the patient's portal for use in scheduling a consultation with the physician. A physician can establish their availability both in terms of open time slots for consultation and their general hours of work/day availability.
The ICMyDoctor Telehealth EMR Portal represents a Comprehensive Remote/Virtual Ambulatory Practice Solution complete with Clinical Decision Support, ePrescribing and Much More.
Possibly, the biggest differentiator and value-adder not possible with any other Remote Virtual Care Solution in the world would be its unique ability of making available the patients longitudinal medical records for review, analysis and consideration in addition to the symptoms for which they are requesting a virtual care remote consultation.